What is MS Word? Uses and information of MS Word
What is Microsoft Word?
What is MS Word, it is the most used word software in the world. The software was designed by Microsoft, although Microsoft Office is a small part of MS Word. Which works like a kind of productivity software It was first launched by Microsoft in 1983.
In a few days after it was launched, it became very important for the people, earlier it used to be only in Windows but now it can be used in both Windows and Macintosh.
Use of MS Word
It was created so that people can do all the work related to their documents in this software. And anyway, all the work in the document-related world is done with the help of this software like- Job Resume, Cover Letter, Flyers, Books and many other things which we can do easily with the help of this software. With the help of this, we can do official work in a perfect way.
Who created MS Word
MS, or Microsoft Word, was first developed by American software architects Charles Simonyi and Richard Brody. But both Bill Gates and Paul Allen were hired together in 1981. After that the first word was released in 1983, Word 1.0 was released, when it was launched, it had very few features, then later gradually it kept changing according to the need of the People.
Features of MS Word
There will be some of you who do not yet know what features are present in ms word. With the help of which people design their documents very well.
1. What You See Is What You Get(WYSIWYG)- Its work is that whatever we are seeing on the display, if we print it or send it to someone else's system, then it should appear exactly as it was visible in the previous system. So that we can easily see it in another system without any problem.
2. Spell check:- This ms word is designed in such a way that if we type some multiple documents in word or edit something in it then if there is any mistake in that word then Microsoft will start showing it in red color below that word Which means this spell is wrong and its special thing is that it gives auto-correcting order.
3. Text-level:- The specialty of this feature is that with its help, we can easily underline, bold, strike-through and italic any of our spellings.
4. Page-level:- Through this, we can do paragraphing, justification, and indentation of our spelling in our document.
Also Read:- What Is Computer
how to learn ms word?
There will be some of you who have not yet used MS on any computer, but now if you want to learn it then this post is for you in which you will get information about how you can use it. If you are a new user then definitely read this article.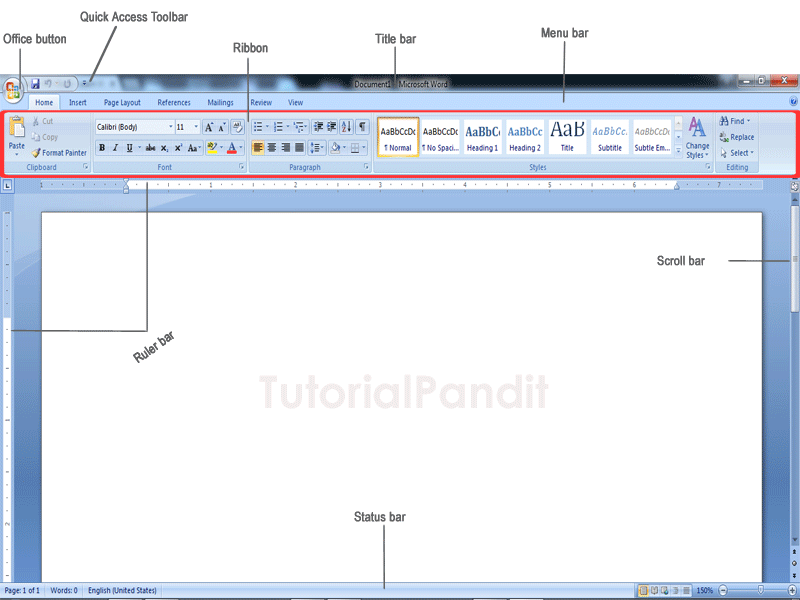 1. word user interface:- 
Menu bar:- This is the one by which we do not have to find more to do our File, Edit, View, it appears in front of us at the top.
Toolbar:- It appears at the bottom of our word so that we can save, print, etc. in our document. 
Ribbon:- This feature helps us to place our document in any category,  and it is given on the bottom side of ms word like layout, home tab, etc.
2. Adjust the document
Have you ever noticed that different alignments are used in different documents like Left, Right Center, and Justify, This is a small version of our word which looks like small black lines, with the help of this we can change the alignment of our document.
3. line spacing
If the line spacing is not correct in your document, you will see a dot inside the ribbon in alignment then select the line spacing you want to correct and then click Line Spacing inside the ribbon
4. Page Orientation
You can change the orientation of your page with the help of ms word, which is seen in the page layout section so that we can change our page to Portrait or Landscape.
5. Page Size
With this, we can also increase or decrease the print size of our page. For this, we have to select the page whose size is to be resized and click on the below size.
How to edit a basic document in MS Word?
By now you must have come to know that what is the use of MS Word but this question must be coming to your mind that how to edit a document. You have to first open the word of your PC, then click on the text in the ribbon section of the word, then you have to enter whatever title you want, after that you can create a new doc.
Interesting Facts MS. Word:- 
1. Bill gates were the first person to become the youngest billionaire at one time as he had earned $1 billion from MS Word on his 32nd birthday.
2. MS. gives us a feature that you hardly know about. As if you had designed some docs in your morning, then you need that doc in the evening, you will have a lot of trouble in finding that doc and you may not even find it but there is a shortcut key for this, that is SHIFT + F5 to press it. With this, your file will automatically start showing your doc.
Features of MS-Word
1. This is such software with the help of which we can easily prepare any type of doc in less time.
2. We can send any mail through this with the help of the internet.
3. In this, we can prepare our doc not only in Hindi or English but also in Sanskrit, Marathi, Gujarati, Punjabi, Telugu
4. Its most important thing seems that with the help of this we can design any type of dock according to our own.
5. There is also a feature in this, if for some reason our system gets shut down and we are doing some important work, then we can use autosave for this without any problem.
Conclusion
If you have read the above article completely, then I hope you have come to know what is ms word and how it is used. If you are still in any doubt then you can ask your doubt in the below comment box.